Colleges
> > Government College of Engineering, Amravati
Government College of Engineering, Amravati
www.gcoea.ac.in
0721-266 2889

To integrate in a self-sustainable manner IT education and IT enabled education with the basic teaching, learning process and its management. The goal is to prepare the graduates for the knowledge-based economy, champion the cause of life long learning and stimulate the creation of world class resources through information technology.
About
---
Programs
Some campuses offer specific programs
View programs for:
---
B.Tech Electrical Engineering
B.Tech Mechanical Engineering
B.Tech Engineering and Applied Mechanics
B.Tech Electronics and Telecommunication Engineering
B.Tech Instrumentation Engineering
B.Tech Computer Science and Engineering
B.Tech Of Information Technology
M. Tech. Electrical Power System
M. Tech. Thermal Power Engineering
M. Tech. Thermal Engineering
M. Tech. Production Engineering
M. Tech. Structural Engineering
M. Tech. Environmental Engineering
M. Tech. Geo Technical Engineering
M. Tech. Electronic Systems and Communication
M. Tech. Computer Science and Engineering
---
Campuses
---
Government College of Engineering Amravati - Amravati, MH
Kathora Square
Amravati, MH
www.gcoea.ac.in
0721-266 2889
General Info
---
Approved By:
AICTE Amravati University
---
---
Academic Calendar Type:
SEMESTER
---
On Campus Housing Available:
Yes
Campus Facilities
---
Gymkhana, Canteen, Hostel, Library.
Placement Aid:
---
The placements and related matters are looked after by a T&P Cell comprising of a T&P Officer, who is assisted by a T&P committee consisting of staff and students members. The T&P committee handles the entire gamut of activities involved in providing a stepping-stone to the corporate arena for the students of G.C.O.E. Amravati. The T&P committee acts as a liaison with the corporate world and believes in maintaining a positive and interactive relationship with the corporate. The activities involve facilitating the Pre-placement Talks and the planning and execution of the Campus Recruitment Training program (CRT).
Faculty:
---
Prof. A. V. Deorankar
Information Technology,Head of Department
Prof. Umesh Madhukarrao Thorkar
Instrumentation Engineering,Assistant Professor and Head of Department
Dr. Prashant N. Chatur
Computer Science and Engineering ,Associate Professor and Head of Department
Dr. Rajendra Sevakram Dalu
Mechanical Engineering,Head of Department Associate Professor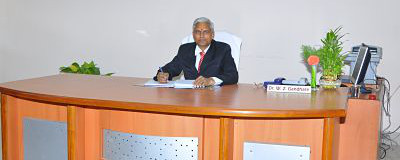 Dr. W. Z. Gandhare
Ph.D. (Electrical Engineering), I. I. T. Mumbai