Colleges
> > Dr.D.Y.Patil Vidyapeeth, Pimpri
Dr.D.Y.Patil Vidyapeeth, Pimpri
www.dpu.edu.in
91-20-27805000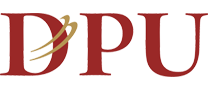 To contribute to the socio-economic and ethical development of the nation, by providing high quality education through institutions that have dedicated faculty and state-of-the-art infrastructure, and are capable of developing competent professional and liberal-minded citizens. With this mission the University has been providing high quality education in the Faculties of Medicine, Dentistry, Allied Medical Sciences, Nursing, Biotechnology & Bioinformatics, Management and distance learning through eight institutions. In each programme the University ensures the provision of high quality education, the pursuit of knowledge and the creation of new ideas.
About
---
Programs
Some campuses offer specific programs
View programs for:
---
M.Sc in Biotechnology
M.Tech in (Integrated) in Biotechnology
B.Tech in BioInformatics
Ph.D in Bioinformatics
M.Sc in Bioinformatics
B.Tech in Medical Biotechnology
Ph.D in Biotechnology
B.Tech in Biotechnology
---
Campuses
---
Dr.D.Y.Patil Vidyapeeth Pimpri - Pune, MH
Sant Tukaram Nagar
Pune, MH
www.dpu.edu.in
91-20-27805000
General Info
---
Approved By:
DEEMED UNIVERSITY
---
Academic Calendar Type:
Semester
---
On Campus Housing Available:
Yes
Campus Facilities
---
Library, Classrooms, Computing Labs, Laboratories, Workshops, Seminar Halls, Conference Rooms, Digital Library, Internet Facility, Medical Facility, Placement Aid, Canteen, Hostel, Sports, Transport.
Placement Aid:
---
Release of college brochure annually. Correspondence and visits to various organizations for planning and arranging campus interview. Arrange informative lectures by eminent professionals for the benefit of students and staff members. Recommend students for Vocational Training in different companies. Organize parents meet for their involvement in general development of the institute. Develop strong Alumni Association. A database for Biotech and Bioinformatics companies in the country and especially in Maharashtra around Pune is created. Students have access to this database. Institute is helping them for their summer training in companies of their choice. We are in communication with number of companies for placement of our students when they graduate. Students are given enough training in personality development, group activities, communication skills, economic viability of a project, Bioethics & Bio-safety, Environmental laws, patent laws, entrepreneurial skills. Placement Result for the first pass out batch B. Tech(Biotechnology) & B.Tech (Bioinformatics)