Colleges
> > D.A.V School of Business Management
D.A.V School of Business Management
www.dsbm8.org
+ 91 674 2560539

D.A.V School of Business Management, DAV Campus, Unit-VIII, Bhubaneswar is a part of the National D.A.V network and is affiliated to Utkal University. This institute was established in the year 2007, to provide a wide range of holistic management education to the budding youth.To be an institute of professional learning by strengthening its position as a knowledge leader and content provider.Continue expanding locally and globally by imparting innovative management education and to create quality human resource as per the demand of the society. To create responsible citizens and results driven innovative business leaders for the country, who would serve the corporate world in India and abroad, with high standards of professional excellence, commitment and ethics.
About
---
Programs
Some campuses offer specific programs
View programs for:
---
B.COM (Accounting Hon)
Bachelor of Business Addminstration
---
Campuses
---
D A V School of Business Management - Bhubaneswar, OR
Unit-8, Nayapalli
Bhubaneswar, OR
www.dsbm8.org
+ 91 674 2560539
General Info
---
Approved By:
Utkal University.
---
---
Academic Calendar Type:
Semester
---
Faculty:
---

Dr. D. N. Mishra
M.Com, M.Phil, Ph.D.UGC net
Area: Accounting and Financial Management.

Mr. Satyajit Dikshit
PMIR & Ph. D Continuing
Area: Human Resource Management & Organizational Behavior

Mr. Sudhanshu Sekhar Sahoo
MBA, Ph.D Continuing
Area: Management

Ms. Anjali Panda
MBA, Ph.D Continuing
Area: Management

Ms. Disha Bhatt
M.A (Linguistics) & Diploma in Training & Development ISTD, Ph.D Continuing
Area: Business Communication and Soft Skills.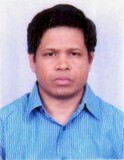 Mr. Subash Chandra Das
M.Com & MBA
Area: Accounting