Colleges
> > CMS College of Engineering and Techology
CMS College of Engineering and Techology
www.cmscet.com
0422 2531753

To provide added infrastructure to the students to develop their talents and support them to pursue their areas of interest. Offer value addition programmes to the students to address their physical, mental and spiritual needs so that they become employable, based on current trends and requirements. To ensure continuous updating of faculty for individual and student's benefit. Motivate and develop members of faculty through continuous development programmes to face global competition.
About
---
Programs
Some campuses offer specific programs
View programs for:
---
Bachelor Of Electronics And Communication Engineering
Bachelor Of Electrical And Electronics Engineering
Bachelor Of Computer Science And Engineering
Bachelor Of Civil Engineering
Bachelor Of Mechanical Engineering
---
Campuses
---
CMS College of Engineering and Technology - Coimbatore, DL
Appachigoudanpathy
Coimbatore, DL
www.cmscet.com
0422 2531753
General Info
---
Approved By:
Anna University AICTE
---
Year Established:
2009-10
---
Academic Calendar Type:
Semester
---
On Campus Housing Available:
Yes
Campus Facilities
---
Library, Classrooms, Computing Labs, Sports, Transport, Hostel, Placement Aid.
Placement Aid:
---
Placement Provided
Faculty:
---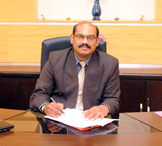 Dr. T. John Oral Bhaskar
M.S and Ph.D. Programmes
Dr. T. John Oral Bhaskar Principal, CMS College of Engineering & Technology, has 30 years of teaching, research and administrative experience in various Government and self financing Technical Institutions. He did his Bachelor Degree in Civil Engineering at Coimbatore Institute of Technology, Coimbatore and completed his Master Degree in Structural Engineering at P.S.G College of Technology, Coimbatore. His Doctoral work was done in the field of Concrete Technology at Anna University, Chennai.