Colleges
> > Chhattisgarh Engineering College
Chhattisgarh Engineering College
www.cecdurg.com
0788-2344781

To be a world class institution in developing competent professionals with values and character for a productive and rewarding career in engineering through quality technical eucation.
About
---
Programs
Some campuses offer specific programs
View programs for:
---
BE in Electrical & Electronic Engineering
B.E. in Electronics & Telecommunication Engineering
BE courses in Civil Engineering
Diploma Programs in Civil
Diploma Programs in Mechanical Engineering
B.E in Mechanical Engineering
B.E. in Computer Science Engineering
---
Campuses
---
Chhattisgarh Engineering College - Durg, CT
www.cecdurg.com
0788-2344781
General Info
---
---
---
Academic Calendar Type:
Semester
---
On Campus Housing Available:
Yes
Campus Facilities
---
Library:Our Library houses an excellent collection of text books, journals, Magazines, Audio Visual aids etc. The library caters to the needs of the students of the institute,Reading Rooms:The refrence section has sitting capacity of 80 students and it is always full of students during preparatory period and examinations.E - Library:It is equipped with computers multimedia and internet connection. Hostel:Hostel facility is provided with a view that the out side students get an homely and comfortable enviroment.Canteen:A specious and well furnished canteen and catering facilities are available in the campus.
Placement Aid:
---
The Training & Placement Cell of our institution plays a pivotal role in counseling and guiding the students for their successful career placement which is a crucial interface between the stages of completion of academic program of the students and their entry into the suitable employment. In addition to campus placements, the Training and Placement Cell organizes Professional Development programs like mock interviews, group discussions, pre-placement talks, interactive sessions with industrial experts, case studies etc. and Personality Development programs covering communication skills, presentation skills, career planning etc., on a regular basis to enable the students to acquire the necessary traits to become saleable to industries. Many reputed national and multinational companies visit our institution for campus recruitment annually because of our high quality research, excellent facilities and talented students. On an average, 75 to 80% of eligible students are placed in last 3 years.
Faculty:
---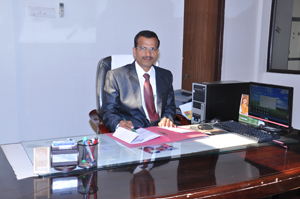 Dr. J. Shivakumar
Technical institutions have an onerous responsibility towards society to ensure that youthful and ambitious talent is transformed into responsible technocrats. To discharge this responsibility, it is necessary to develop and deliver a judicious mix of technical knowledge, behavioral skills and socio-economic values Achieving this requires deep commitment and perseverance on a continuing basis which is easier said than done. Instead at CEC action speaks louder than words.